1 Mihail Kogalniceanu St
Craiova, Dolj,
Romania
1 Mihail Kogalniceanu St Craiova, Dolj, Romania
1 Mihail Kogalniceanu St
Craiova, Dolj, Romania
Price

Bedrooms

30

Bathrooms

Interior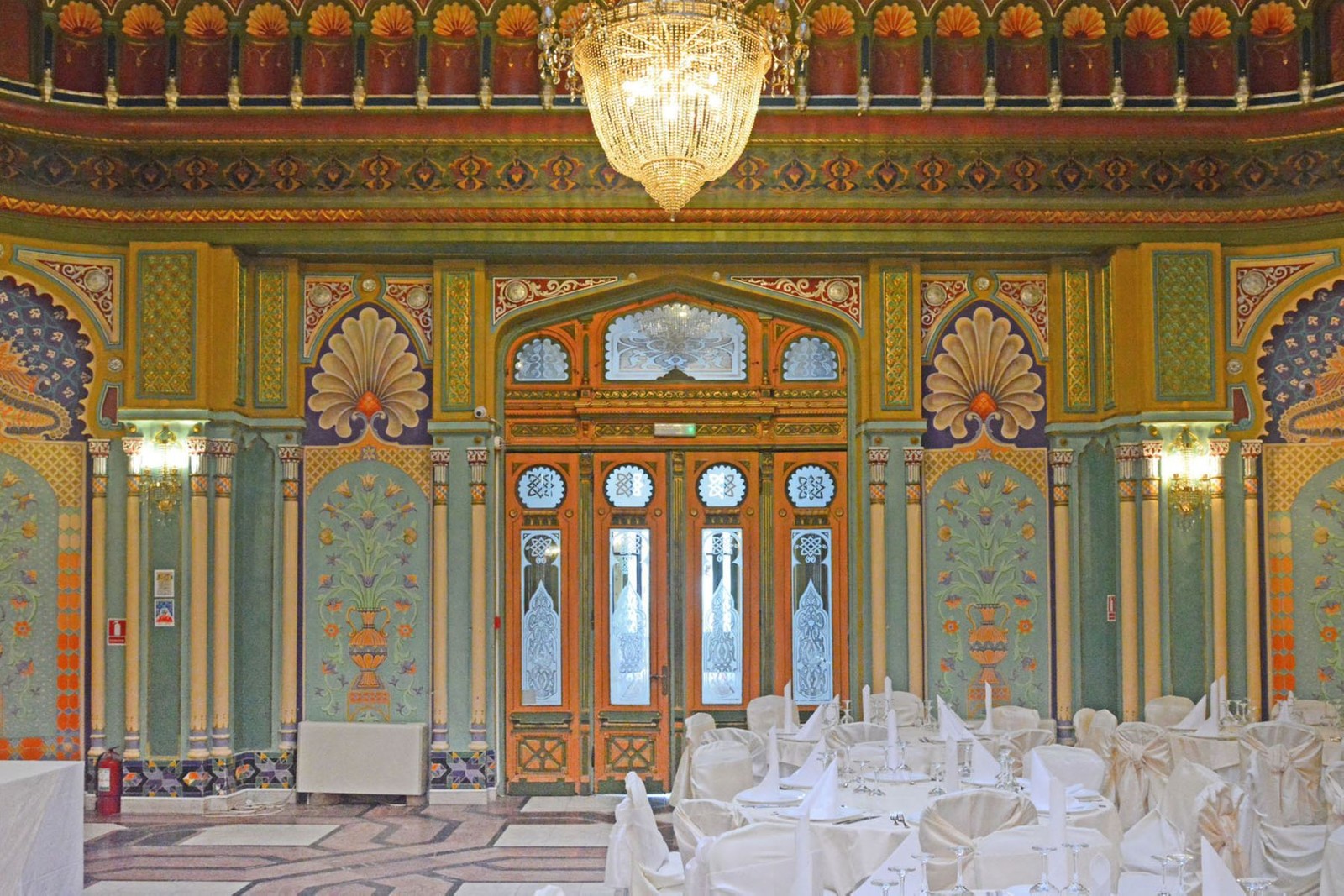 Property details
Property type

Single Family Homes
Minerva Craiova
The birth certificate of the monumental place that would definitively enter into the city life of Craiova and the country through the name, utility and brilliance of "Minerva Casino", was signed more than a century ago, when the architect Toma Dobrescu handed over the plans for the new construction to a society in which entrepreneurs and workers were predominantly Italian. The Moorish-style building, completed in 1902, had a restaurant and hotel at its inauguration, later adding, through clever arrangements, the wine cellar and the summer garden. Later, under the care of extraordinary restorers (Vasilescu, Bazavan, Andronescu, Mândreanu, Istra?oiu, Barbu), the famous Moorish hall and beerhouse became the city's main attraction, Minerva competing and surpassing all other party venues. The motto of that time - "All the fine people gathers at Minerva's" made the regular attendance of the place to be an event for the citizens of Craiova. From the very beginning, Minerva brought together on the concert stage the most appreciated fiddlers of the times, such as Cristache Ciolacu or the Buica troupe, Dinicii, Tandinii, the instrumentalists from the Piculeata and Julea family. It must be remembered that artists that created a name for themselves in the country's artistic life made their debut on the Minerva stage. This is where Madelaine and Manu Nedeianu, Iodanescu-Bruno, Ion Vasilescu, Mia Braia, Ioana Radu, Dorina Draghici, Petre Alexandru and many, many others started. When Giani Spinelli sang, the tables also occupied the entrance hall, many waiting outside, because there was no more room in the hall. It should also be remembered that Minerva was a real "citadel" of culture, here the artists spending their free time, over a drink, discussing art issues and making plans, giving birth to ideas. Here could be seen Amza Pellea, Gheorghe Cozorici, Constantin Rau?chi, Silvia Popovici, Sanda Toma, Ioana Bulca, Andreea Nastasescu, Rodica Tapalaga, Ioana Magura, Vasile Constantinescu, Vasile Ni?ulescu, Remus Comaneanu, Geo Barton, George Marutza or Costel Radulescu, Mircea Bohoreanu, Benedict Ganescu, George Apostu, Victor Roman, Ilie Purcaru, Paul Anghel, Ion Caraion, Haralambie Gramescu, Mihai Ungheanu, Adrian Petringereanu, Horia Patra?cu or Petre Dragu. Ion Voicu or Constantin Piliu?a whenever they came to Craiova, Minerva was their host. Minerva hosted important people of the world: General Charles De Gaule, Ciu-En-Lai, Emperor Pahlavi of Iran, President Gomulka of Poland and so many others. The Minerva Garden hosted the first boxing galas in which many champions of the country competed: Anton Osca, Marin Gaspar or Gheorghe Lungu. Minerva remains an exceptional achievement in Craiova's urban planning, impressing in size and architectural exuberance. A monumental construction made in Moorish style, with a rich exterior decoration, with an entrance that stands out for its monumentality. The Maur salon has a huge skylight, with Viennese mirrors on the side that highlight the splendor and grandeur designed by the architect. Today Minerva is in a project state and is patiently and nostalgically waiting for the time to shine again. Consolidated and partially renovated, the building needs a renovation project in order to be used again as a hotel with restaurant, beerhouse and summer garden facilities and to become again the main attraction of a city that has been missing for too long.

about Romania
Romania is a country of variety and geographical diversity.
Amenities & Features
Listing Details

Property ID

4P2J9Y

Property type

Single Family Homes

Marketed By

Romania Sotheby's International Realty

Status

Available

Listing Price

$2,074,468

Utilities & Building

Interior

Full Bathrooms

30

Bedrooms

30